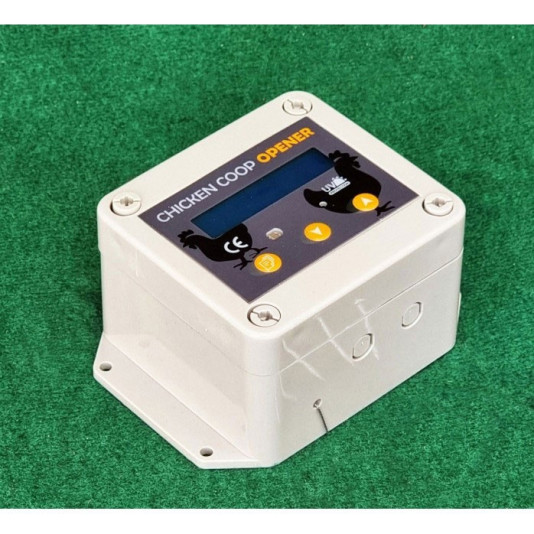  
Automatic chicken coop Door
Automatic and twilighter light sensor door opener device for chicken coop complete with door. Programmable, predator-proof, weatherproof.
HOW TO PLACE AN ORDER
To purchase, choose the model and add it to the cart. You can also order via email or telephone. All products included on the site are available for purchase. Prices include VAT.
Click for more information.
SHIPPING COSTS AND DELIVERY TIMES
To find out the transport costs, add the products to the cart: they will be calculated based on the total weight of the goods you purchase. Shipping costs refer to Italy. We also ship throughout Europe, to find out the costs for other countries it is necessary to register.
The goods are delivered to the Italian domicile by national courier in 4-7 days from receipt of the order/payment.
We will send you an email with the Tracking Number (Shipping Code) with which you can check the status of your shipment. You will however be contacted by the courier to arrange a delivery appointment.
Click for more information.
TERMS OF PAYMENT
You can pay for your products in the way you prefer:
- cash on delivery (no cheque) directly to the courier (available only in Italy) for amounts up to €1500 without further commissions
- PayPal or PayPal in 3 installments
- Mastercard, Visa and American Express credit cards
- Bank transfer
If you pay by bank transfer, also send us a copy of the bank transfer receipt by email to info@ferrantinet.com referring to your order.
All transactions are processed via a secure SSL (Secure Sockets Layer) server.
Click for more information.
local_shipping Shipments in all Europe
build Easy assembly!!
With instructions and assembly kit
The automatic and twilighter light sensor door opener kit for chicken coop is a system consisting in an electrical device (control unit) and an aluminum door that performs the task of opening and closing the chicken coop according to the given settings, providing adequate protection from nighttime predators.
The door opener system can be programmed according to one's needs:
- in twilighter mode, thanks to the light sensor
- in automatic mode by manually setting  the preferring time for opening and closing door
- an additional manual function will allow momentary opening or closing of 3 minutes in case it is necessary to interrupt the given setting.
The kit consists of instruction manual in languages, electronic device with digital display (control unit), aluminum door, external aluminum sliding rails, brackets, cord and bracket for mesh or smooth surfaces such as wood or insulated. The opening and closing door is by sliding from bottom to top and vice versa following the side guides. Installation is simple and can be done in a short time without any technical expertise. It can be installed on our chicken coops and  also in other shelters that allow its application. 
The electronic device can also lift other door, other than the one provided, as long as it weighs between 300 and 1000 gr. Operation is with 4 AA batteries (not included). Usable in all weather conditions, it is rainproof and UV-resistant. Made of extremely durable quality materials, they ensure its durable and continuous use over the years. Ideal for both professionals and amateur breeders, the Automatic Door Opener System complete with door is a must-have convenience that saves time and keeps your poultry protected and safe.
Size electronic device (control unit) 14 x 7 x 10h cm
Aluminum door size 22 x 32h cm (internal door width for passage 20.5 cm)
Assembly Instructions:
Data sheet
Accessory type

Various
12 other products in the same category: