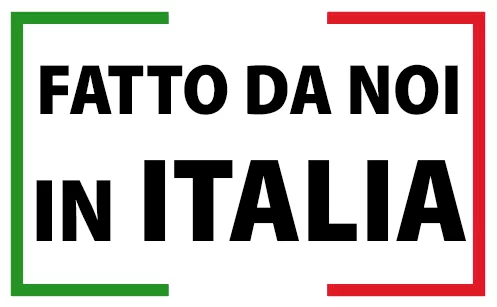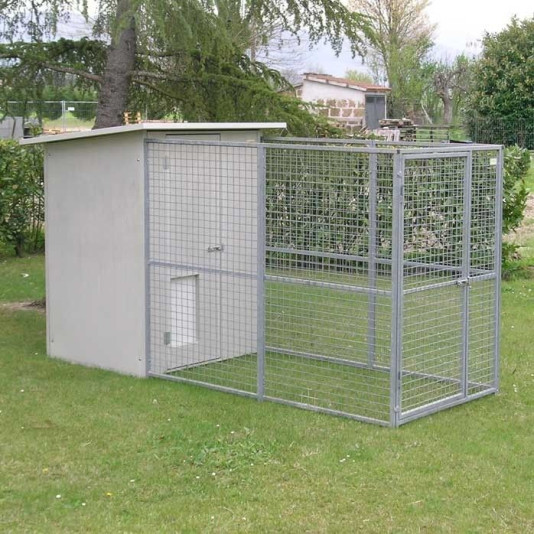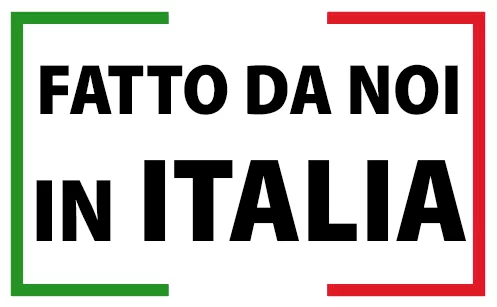  
Dog Kennel Outdoor mod. Modular + Doghouse mod. Great Dane
Box kennel of large and giant size, consisting of insulated house and enclosure in galvanized mesh. Available in various sizes up to 8 sqm; widely customizable sizes. It's equipped with a door, a cat flap, a raised internal platform, a gate with a bird holder and a system for ground fixing. The fence can be with or without insulation panel cover.
You can choose and add an accessory to your cart:
HOW TO PLACE AN ORDER
To purchase, choose the model and add it to the cart. You can also order via email or telephone. All products included on the site are available for purchase. Prices include VAT.
Click for more information.
SHIPPING COSTS AND DELIVERY TIMES
To find out the transport costs, add the products to the cart: they will be calculated based on the total weight of the goods you purchase. Shipping costs refer to Italy. We also ship throughout Europe, to find out the costs for other countries it is necessary to register.
The goods are delivered to the Italian domicile by national courier in 4-7 days from receipt of the order/payment.
We will send you an email with the Tracking Number (Shipping Code) with which you can check the status of your shipment. You will however be contacted by the courier to arrange a delivery appointment.
Click for more information.
TERMS OF PAYMENT
You can pay for your products in the way you prefer:
- cash on delivery (no cheque) directly to the courier (available only in Italy) for amounts up to €1500 without further commissions
- PayPal or PayPal in 3 installments
- Mastercard, Visa and American Express credit cards
- Bank transfer
If you pay by bank transfer, also send us a copy of the bank transfer receipt by email to info@ferrantinet.com referring to your order.
All transactions are processed via a secure SSL (Secure Sockets Layer) server.
Click for more information.
local_shipping Shipments in all Europe
build Easy assembly!!
With instructions and assembly kit
The kennel for dogs model Modular is made up of:

- Sleeping area with insulated panels, 3.5 cm thick, framed with sheet metal profiles, easily washable and disinfected; complete with gates, sliding hatch and wooden bench raised from the ground, removable and washable
- Living area made from electro-welded panels, hot galvanized, 5 x 5 cm mesh 3.9 mm wire; full gate with bolt-holder (you can enlarge by adding more panels)
- Roof in insulated panels, with double or single slope; the living area can be with or without cover
- The roof protrudes in all types of about 13-14 cm on three sides, while on the front it protrudes about 5 cm
- Height of fence panels 170 cm; 200 cm on request
- On request with the side panels in the living area closed at the bottom with insulated panel, to prevent dogs from seeing each other
- The boxes are designed for ground fixing: on concrete floors, use 10 mm plugs, on grassy ground, use 10 mm pegs
- By installing the boxes in series, that is, one attached to the other, there is a saving compared to the standard model so it is advisable to request a quote by email specifying the structure you intend to design.
SIZE:
125 x 300 cm
(doghouse 125x100x180h - run 125x200x170h)
200 x 300 cm
(doghouse 200x100x180h - run 200x200x170h)
200 x 400 cm
(doghouse 200x100x180h - run 200x300x170h)
The doghouse is suitable for giant dogs (kg 40-95, cm 55-90) such as Alaunt, Bernese Mountain Dog, Rottweiler, Terranova, male Dobermann, Irish Greyhound dog, Cane Corso, Neapolitan Mastiff, Maremma Sheepdog, Bullmastiff.
Other sizes on request
 📥 DOWNLOAD THE ASSEMBLY INSTRUCTIONS 🛠️ 
Assembly Instructions
Data sheet
Kennel surface

3,8 mq
6 mq
8 mq

Fence type

Mesh panel
Specific References
ean13

6014335371395
6 other products in the same category: